What Are NFL Cheerleaders Worth? Inside Their Fight for Minimum Wage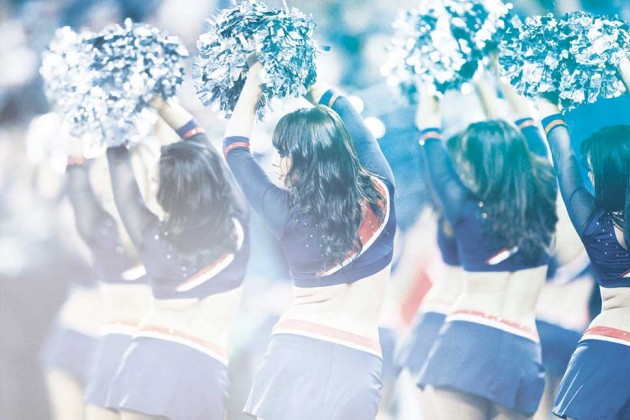 Photograph by Lucas Oleniuk/Toronto Star
The Buffalo Jills at Toronto's Rogers Centre on Dec. 3, 2009
Caitlin Ferrari grew up rooting for the Buffalo Bills. At the dance studio in her hometown of Rochester, N.Y., her instructor was a former Bills cheerleader—a Jill, as the NFL team's dancers call themselves—and at the end of her freshman year at Niagara University in 2009, Ferrari decided to try out herself. "It just kind of popped into my head," she says now. "Honestly, I didn't really think I was even going to make the squad." After two weeks of auditions and a final interview, she did. Like the rest of the Jills, she was then presented with a contract stating that she wouldn't be paid—not for games, not for twice-a-week practices, not for mandatory off-field appearances. There would be a chance, she was told, to make $20 an hour at some charity events. Ferrari didn't think twice. "I'm 18," she says. "I just made this amazing professional cheerleading squad. I'm going to sign whatever the heck they put in front of me."
Now, she says, she knows better. She didn't try out the next season, and in April of this year, Ferrari, now a 24-year-old sales rep for Eastern Copy Products in Rochester, filed a class action against the Bills for wage theft. She tells the story in a conference room at a rent-a-suite office in Buffalo, with one of her lawyers at her side. Ferrari is wearing a knee-length, sleeveless white dress and a bib necklace with magenta gemstones: Rabble-rouser is about the last description that comes to mind. "I wasn't one to voice my opinion," she says. But in January, Ferrari learned that an Oakland Raiders cheerleader named Lacy T. had sued her team in California court, alleging she was illegally underpaid. (The women often go by first name and last initial to protect against stalkers.) "You don't make any money," Lacy told HBO's Real Sports. "You're better off serving beer and hot dogs in the concession stand." Compared with Ferrari's deal with the Jills, Lacy's contract was generous: $125 per game for two preseason and eight regular season games.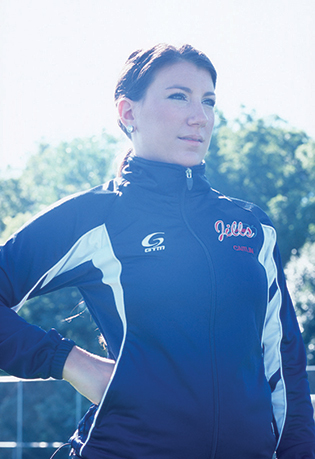 Photograph by Marcelo Gomes for Bloomberg BusinessweekCaitlin Ferrari
"Once I saw that case come out, it really stuck in my head—I'm not the only one," says Ferrari. A Cincinnati Bengals cheerleader brought a suit in February, and a second Raiders cheerleader added her name to Lacy's case that same month. Ferrari filed in April, on the same day as a separate suit brought by five other former Jills. A New York Jets cheerleader sued in May, and a couple of weeks later, so did one from the Tampa Bay Buccaneers. In June two more Raiders cheerleaders sued in a class action that named the National Football League, along with the team, as a defendant. In all, 13 current and former NFL cheerleaders in five cities have filed pay cases. In every one, the cheerleaders are claiming that teams violated minimum wage laws.
As the plaintiffs pile on, fans are learning that the most powerful sports league in the U.S., with $9.7 billion in annual revenue, pays its sideline performers worse than the average birthday clown or barista. "It's giving the league a black eye," says Paul Secunda, a professor of labor law at Marquette University. "There's no need for them to act this way." The self-inflicted damage comes at a time when the league's handling of a domestic violence case involving former Baltimore Raven Ray Rice isn't helping its credibility with women.
Cheerleader pay is a "team matter," says NFL spokesman Brian McCarthy. "Our office is not involved with the selection, duties, or wages of the cheerleaders." A Bengals spokesman sent a statement calling the suit against the team a "copycat." The Jets and Buccaneers declined to comment. On Sept. 4, the Raiders reached a tentative settlement in the Lacy T. case to pay $1.25 million in lost wages to cheerleaders who worked for the team over the last four seasons.
Nowhere is the issue more acute than in Buffalo, where the lawsuits have brought new life to a 20-year struggle over cheerleader pay. On Sept. 14, when the 2014 Bills play their first home game against the Miami Dolphins at Ralph Wilson Stadium, there will be no Jills for the first time in nearly five decades.
 
 
http://www.businessweek.com/articles/2014-09-10/nfl-cheerlea...